Although outsourcing software development is a common practice among enterprises and large corporations, smaller companies aren't convinced to pursue it. The culprit for the reluctance often lies in fear and misunderstanding of what exactly outsourcing means and includes.
But a knowledge-based approach to outsourcing helps companies of all sizes get the most out of this effective approach to software development. Learn what are the pros and cons of outsourcing.
What Is Outsourcing Software Development?
Outsourcing is the answer to getting the work done in a variety of business scenarios and settings. Outsourcing software development can help companies complete a broad variety of tasks, from very complex projects to simple IT processes.
According to the 2020 global outsourcing survey by Deloitte, companies decide to outsource to:
Increase flexibility
Improve their business (operations and strategy)
Harness the benefits of new technology
Speed up time-to-market (TTM)
Let's review some of the business cases where outsourcing brings tangible value.
An enterprise wants to build or change something in the workflow, or maybe introduce a new piece of software, but lacks freely available resources to take care of the project.
A company doesn't have the skills and technological know-how to translate business ideas into tech solutions.
An organization experiences a scarcity of appropriate talent.
A company wants to focus on developing core business functionalities and outsource the less creative development work to a trusted partner.
Even though there was some instability in the global revenue of outsourcing services in recent years (2015 and 2016), the industry has stabilized. The global market size of outsourced services was $92.5 billion US in 2019.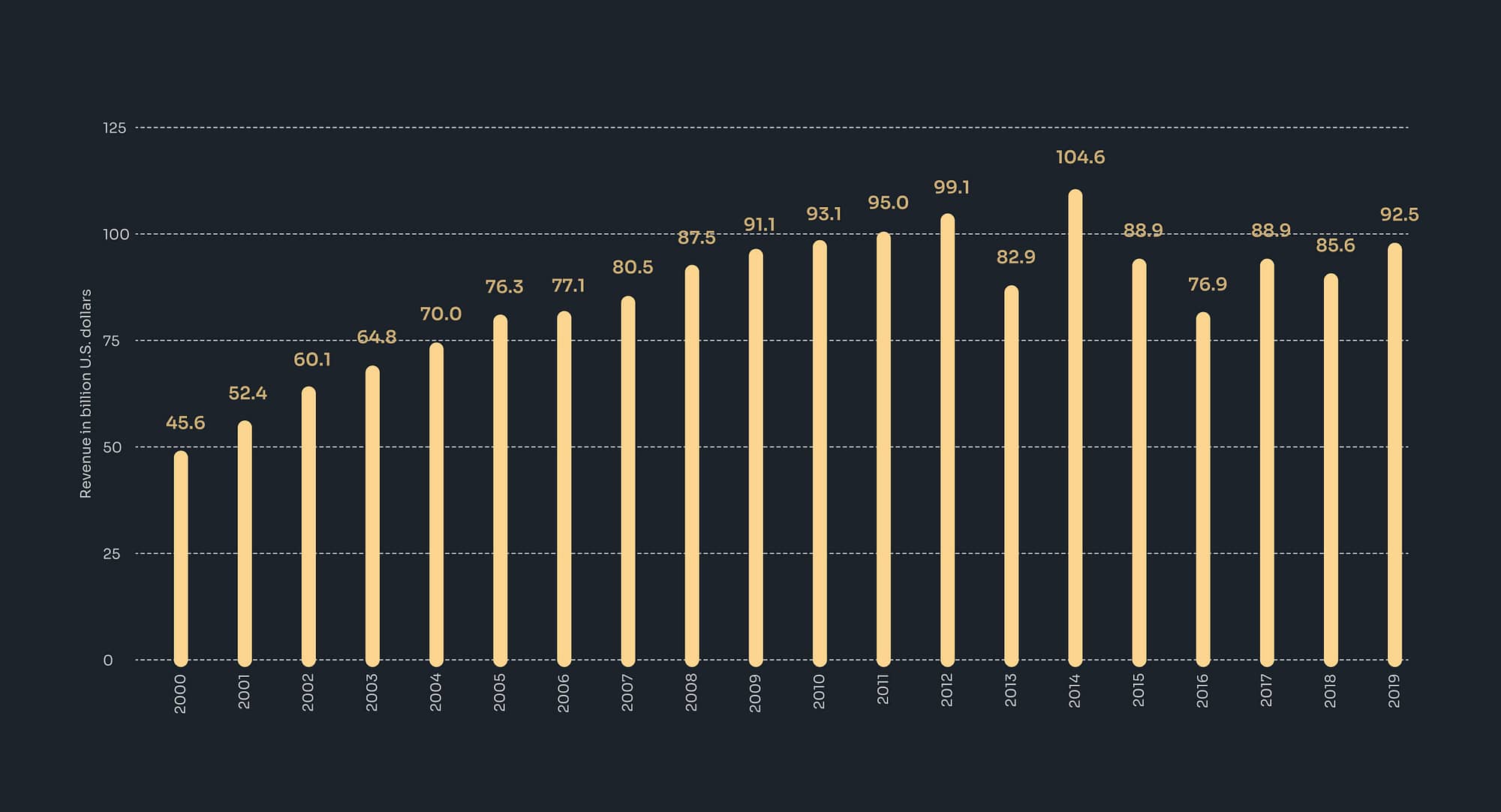 What Is the Difference between Project Outsourcing, Managed Services, and Staff Augmentation?
There are many types and approaches to outsourcing development:
Project outsourcing — an external partner takes care of a specific portion of a company's operations or an entire project.
Managed services — long-term delivery of strategic solutions, which can include business operations or defined IT processes.
Staff augmentation — it's the most flexible of the three outsourcing approaches where you hire developers based on project or skill demand.
How Do You Outsource Software Development?
Just like there are many types of outsourcing, there are also three ways how you can choose an outsourcing partner.
Offshoring
Offshoring involves delegating business processes to an overseas software agency. This type of outsourcing is the most popular — offshoring is usually the most cost-effective.
Time-zone difference: from 6 to 10 hours
Nearshoring
Nearshoring means outsourcing project-related tasks to a partner that resides near your time zone.
Time-zone difference: up to 4 hours
Onshoring
Outsourcing business operations to a company operating within the borders of your country.
Time-zone difference: little to no difference
How Much Does It Cost to Outsource Software Development?
Development costs vary from country to country. Based on company profiles on Clutch, the following average rates per hour emerge:
What Are the Benefits of Outsourcing?
Quality of deliverables
Outsourcing a project to an experienced partner with a portfolio of similar completed projects will often result in a high-quality product.
When you're just building your in-house capacity and skill set, an outsourcing partner can be invaluable and bring the necessary expertise and product advice.
As your in-house team grows, you can rely on the knowledge and experience of the outsourced professionals.
Access to talent pools
When you're developing an in-house project that calls for specialist skills at some point, you can extend your team with external professionals. External professionals will bring the necessary skills and help your internal team.
On the contrary, if you only need to get pure development work out of the way and let your in-house devs focus on business functionalities and more creative problem-solving, team extension will take the base coding out of the way, increasing your internal resources.
Cost control
An in-house team requires a proper setup. You need to provide hardware, software, and services. There's also payroll, training, benefits, and the overhead of recruitment.
When you outsource development, the outsourcing company provides all the necessary hardware and software your project needs. You don't have to worry about training your in-house team either.
Time optimization
When building an in-house team, you have to consider at least a few factors.
First, the whole process of recruitment is a time-consuming endeavor. You have to sift through candidates, onboard them, and then let them familiarize themselves with the routine of processes and workflows, which is necessary for an optimal level of productivity.
Outsourcing project development takes away the need to look and hire talent. You get results a lot faster when you outsource, without having to build a work culture and team dynamics — all of that is already present in the partnering company.
Flexibility
When you need specialist skills, you can reach out to an outsourcing provider and add experienced devs to your team based on your needs.
The contract is usually signed for a period of time after which you either part ways when the work is completed or extend the contract. However, you don't have to lay anyone off if their skills become redundant in your project as you would have to do when hiring in-house.
Reliability
If you pick an outsourcing company that has social media presence and an established reputation as a reliable provider, you can usually expect the highest standard of service and quality of deliverables.
After all, the company's positive reviews determine its value on the market. In a competitive field such as software development, good reviews and trust are a must for companies that want to stand apart from the competition.
Check reviews on leading B2B ratings and review sites such as Clutch.
What Are the Cons of Outsourcing?
Risk of ineffective communication
This is especially possible when offshoring outsourcing to a partner who doesn't have a sufficient command of English.
While this might not be an issue for simple projects or fixes, when discussing complex desktop or mobile applications where idea validation and workshops are involved, fluent communication is necessary to ensure nothing gets lost.
Also, the miscommunication caused by a language barrier can sometimes result in deliverables that aren't aligned with your expectations. That's why it's critical to talk with your potential outsourcing partner extensively about your projects and ensure smooth communication before starting any work.
Possible time-zone issues
While nearshoring and onshoring almost eliminate the problem of time-zone misalignment — there's always going to be some overlap of working hours — offshoring can cause problems.
Time-zone issues can be easily solved by putting together a communication strategy that addresses all aspects (daily meetings, emergency fixes, etc.).
Just keep in mind to arrange the communication strategy well before the work begins to avoid disappointment.
Loss of rapport and camaraderie
Team dynamics are one of the key ingredients that help keep productivity, problem-solving, and creativity at a decent level. When you outsource part of your project, some of that dynamic can get lost.
Different project structure and management processes
Companies and teams have their own way of doing things — different approaches to project management can negatively affect productivity. While there are established project management and development methodologies, they don't always look the same from one team to another.
To improve and align on project organization, agree on how you want to structure the delivery so that the software development roadmap is clear and understandable to all.
What Are the Risks of Outsourcing?
Sudden disappearance of unverified contractors
Some of the companies out there promise great quality at rock-bottom rates. While you can be lucky and find a cheap and good outsourcing provider, always double- and even triple-check their credentials and experience.
When your project depends on someone's availability, any instance of disappearance can cost you money. You wouldn't want a developer to disappear into thin air when an emergency happens or when only half the work is done.
That's why carefully validating an outsourcing provider is one of the first steps you should take.
Hidden costs
Agree on the billing before signing a contract to avoid hidden costs and billing issues. Everything related to billing needs to be described in detail in the contract, along with what exactly is included in the rate.
IP theft
Outsourcing often involves sharing confidential information. Make sure you sign an NDA. It's also good to work with an outsourcing company that resides in a country that is bound by intellectual property rights.
What to Keep in Mind When Outsourcing Development?
Agree on meetings (medium, length, frequency)
Check a country's economy (stability, location, etc.)
Remember about cultural differences (be respectful)
Look up the developer culture in a given country (hackathons, conferences, etc.)
Check reviews on popular B2B review websites (e.g., Clutch)
Why Consider Outsourcing?
Outsourcing software development is an effective way to build digital products without the overhead of HR, payroll, onboarding, and recruitment. Outsourcing gives you on-demand access to a huge talent pool without the long-term commitment of in-house hiring.
Looking for a reliable partner to help you with development? Contact us and let's discuss your project in more detail.